Crush Your CV Game With Roango
CVs rarely get full attention from HR. Hard to write and most don't look that great. Here's what to do to make your CV look better.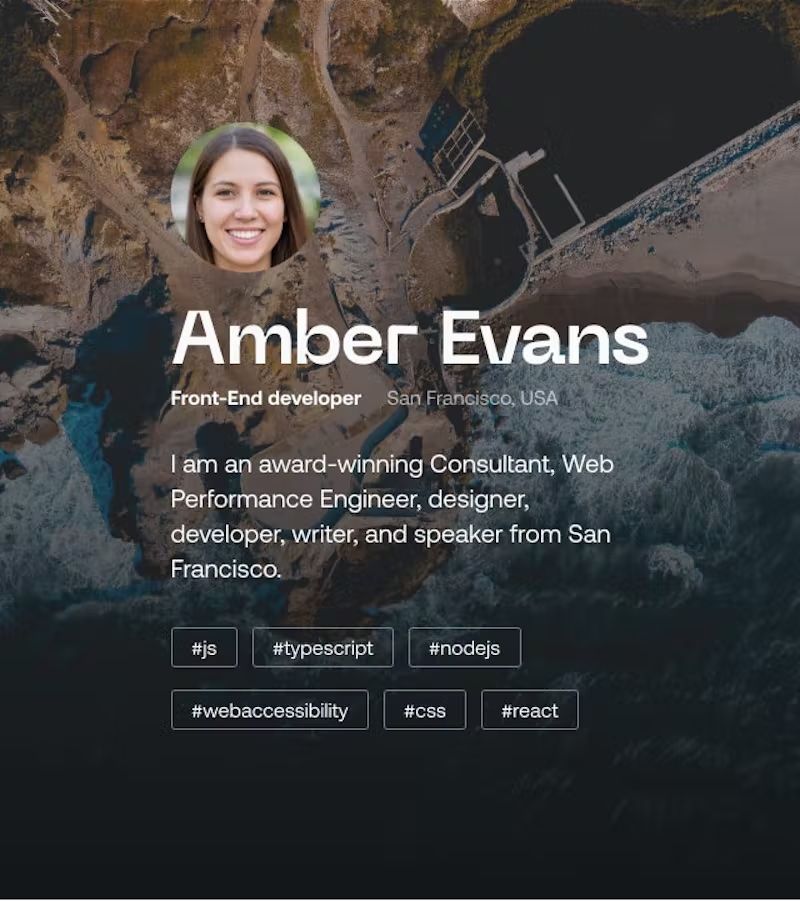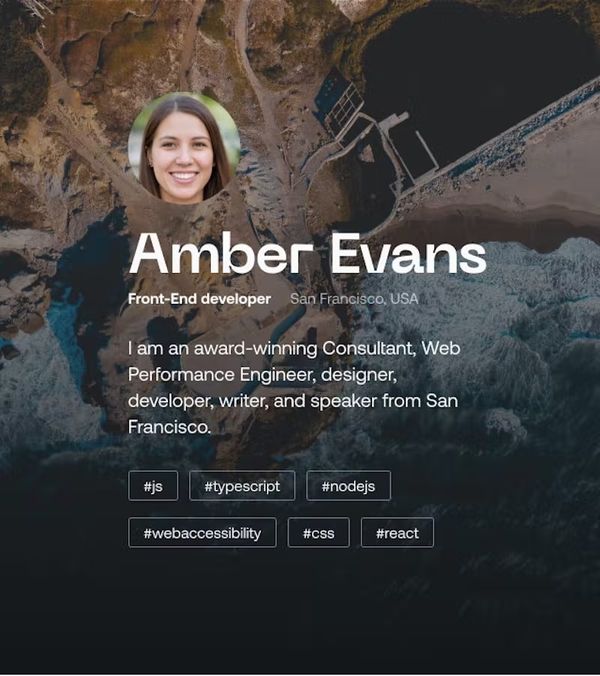 Possibly the only CV you'll ever need.
In 5 delightful minutes, you will learn how to use Roango CV builder to your advantage. There are many CVs in the world, but this one is yours. We tried to be as helpful as possible, offering tips and hints on how to write about your career, including advice on how not to present yourself.

The structure of the Roango CV, AKA Talent profile, is designed to make your skills and expertise front and center. This helps HR people when reviewing your Job application since it contains only the most relevant information for them.

All you need is to access the "Manage Your Profile" section to start following along.
There are 8 sections in your talent profile:

1. Basic info and Expertise
2. Experience
3. Portfolio
4. Projects
5. Certificates
6. Education
7. Languages
8. Culture

Note: "Culture" section is optional, yet we encourage you to invest effort in thinking about what kind of work culture you appreciate the most.

Let's piece this together.
1. Basic Info and Expertise
These sections are the most straightforward, so we won't dwell too much on them. However, there is a "Professional headline" subsection that needs your attention.



Professional headline

Besides your name and picture, this subsection is what makes you stand out from all other CVs that will eventually be looked at. This is your chance to make it distinctly yours. If you don't want to do it now or you feel you can't pull it off at the moment, simply skip it. You'll have plenty of time to do it at the moment you need to send it to the potential employer.

Expertise

This one should be the most straightforward section to fill out. You type in the skills, and the system helps you by showing if the existing skill already exists. If you don't find the one you need, simply add one.

This part is crucial if you want to get matched with a suitable job opening. Add as many valuable demonstrable skills as you possess to do the matching work for you. If you make a mistake, remove the tag and add the correct one. Your entries are saved automatically. Done and done.

Note: This is a good time to mention that each section like this has a Save button, unlike the "Skills" section. Remember to save your work before moving on to other sections.
2. Experience
Here you can add as many work experiences as you wish but remember to enter ones that make you shine.


The order is irrelevant since the system will sort your experience entries chronologically. Just like with the "Basic info" section, there is a "Job description" subsection that needs your attention too. Take your time to think about each job experience you have and what impact it had on both yourself and the company.

For example:

- Joined as the 4th web developer and led a team of 6...
- Built experiments that grew yearly revenue by 10%...
- Increased mobile app performance by 18%...

This will help any company to get a clear insight into your working skills and the effects they have on the project or business. It makes all the difference.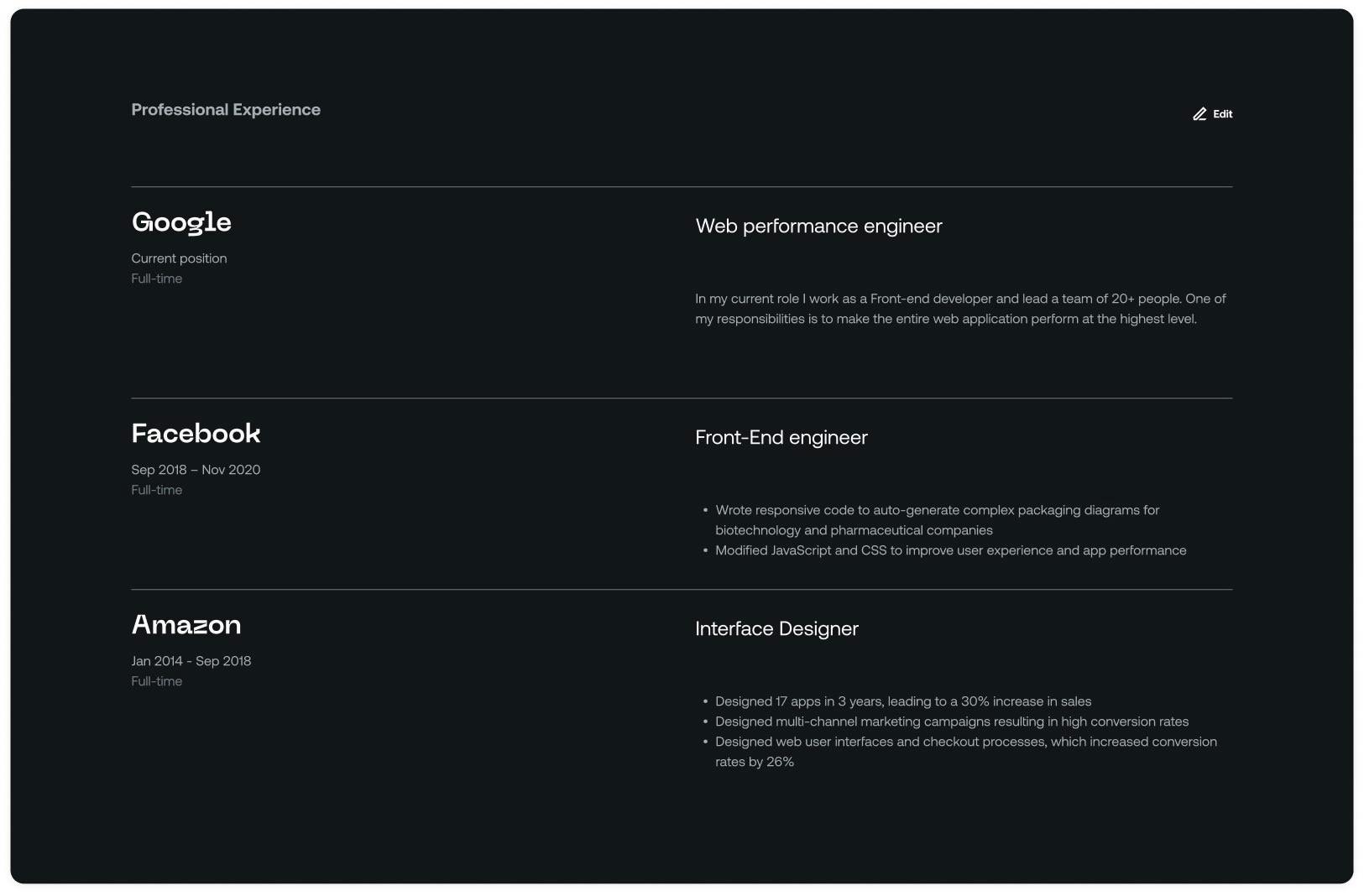 3. Portfolio
The good old, "Show don't tell" section. A place for you to showcase your Github, Linkedin or Dribbble accounts among others available. There is also a subsection to enter a brief yet concise description for each.


This serves as a quick overview of your work backed by concrete projects already available online. Show them what you got!

Bonus points: Links to those accounts are displayed at the top of your Talent profile and exported CV, along with the fine-looking icons.

4. Projects
Not to be confused with the Portfolio section, the projects section allows you to enter short info about the projects you have been a part of. You can add up to three featured projects to make them stand out if you have more of them. This makes it easy to emphasize the projects you are the proudest of and that might interest the company looking to match with a talent like yourself.


Bear in mind that an HR person looking at your profile will have a better chance of getting to know your experience if you summarize it well. This is the hard part. Writing about your achievements and projects you've been a part of takes some effort to reflect on your impact and contribution. Certainly a topic we should cover in-depth in the future.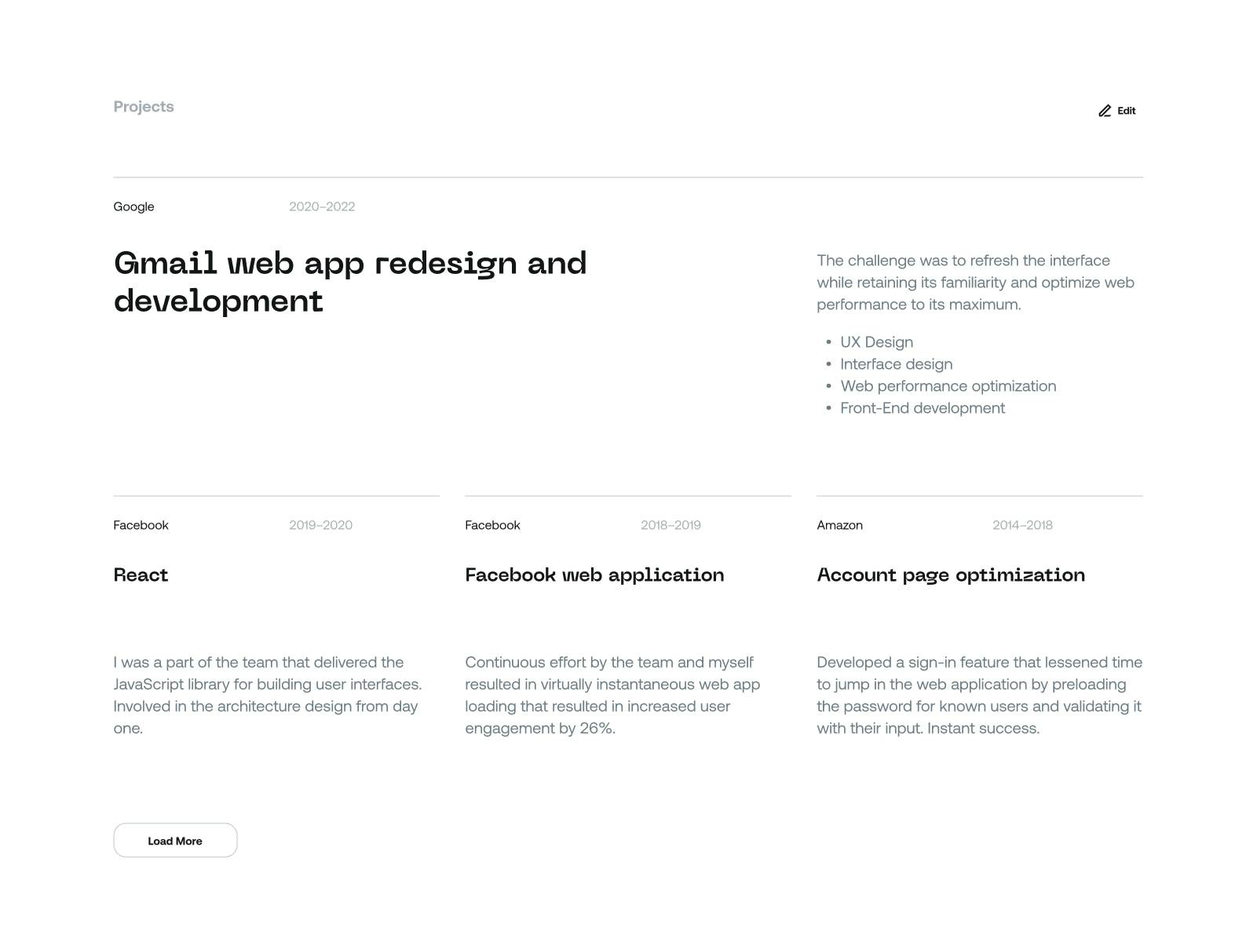 5. Certificates
As for the projects and experiences, add as many certificates related to the position you are looking for. We've made it easy to add all relevant info, including the optional "Credential ID" and "Expiration date" where applicable.


If you don't have any certificates to show for, don't sweat it. They are not everyone's cup of tea in the end.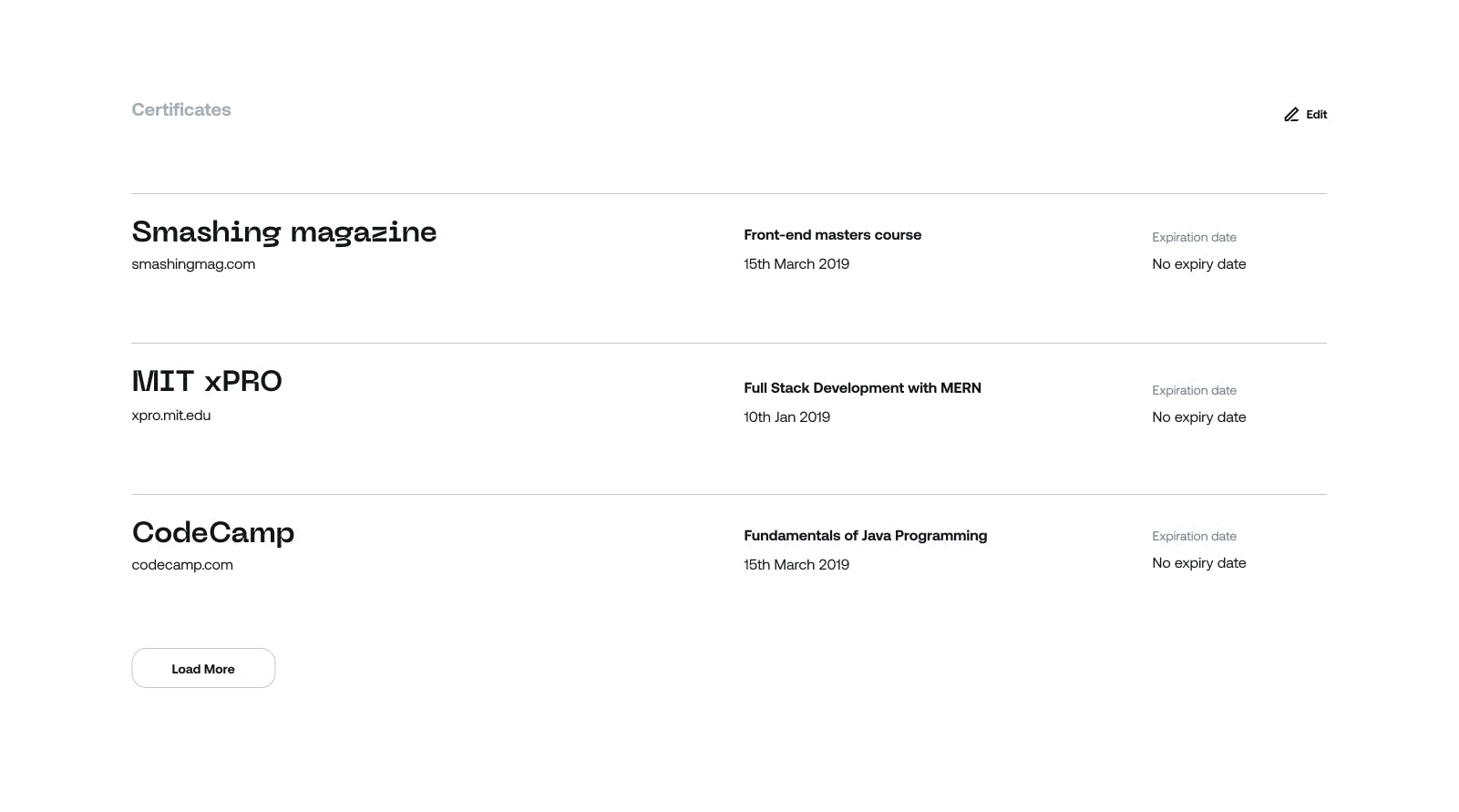 6. Education
Apart from the name of the educational institution and the first year of attendance, all other fields are optional. The same as for the "Projects" section; chronological order is handled by the app, so you don't have to.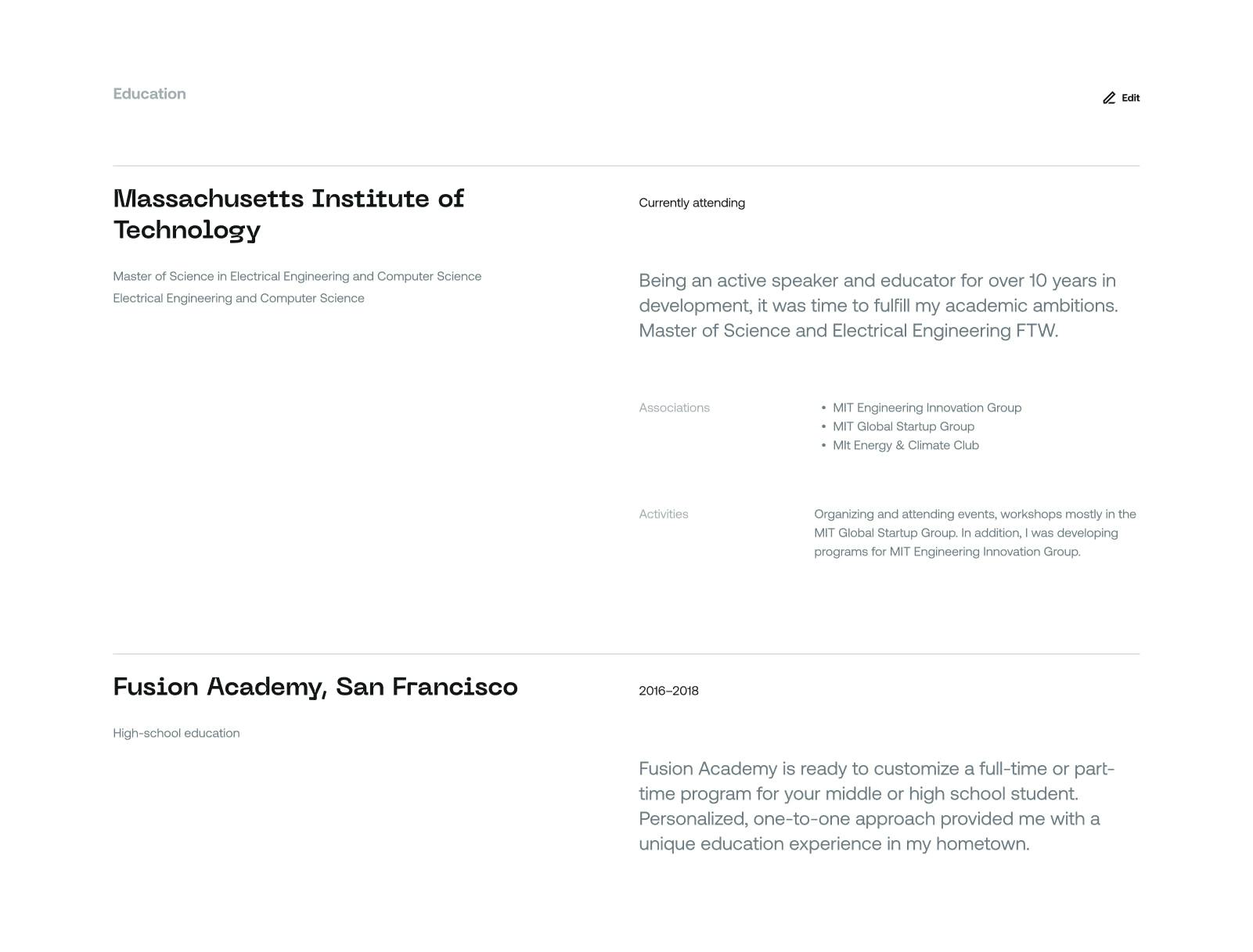 7. Languages
We've made it super easy to populate all the necessary fields that you can tweak at any time. As a result, adding a language is easier than learning one.

8. Culture
Some culture, at last!

And yes, we have certain explaining to do. If you've come all the way here, we salute you.

This is our attempt to create a universal model of 4 dominant company cultures and their combinations. It is roughly based on the Competing Values Framework, which consists of:

- Dynamic, entrepreneurial -  Create Culture
- People-oriented, friendly - Collaborate Culture
- Process-oriented, structured  - Control Culture
- Results-oriented, competitive -  Compete Culture

You are provided with options to choose from, along with questions that lead you to consider and select the kind of work culture you prefer. This is optional, yet if you value certain types of work culture over others, you should invest time to think about it thoroughly.
Note that the Company culture-fit is only shown on the Job Opening listing when you apply for it. Highlighted in the image above.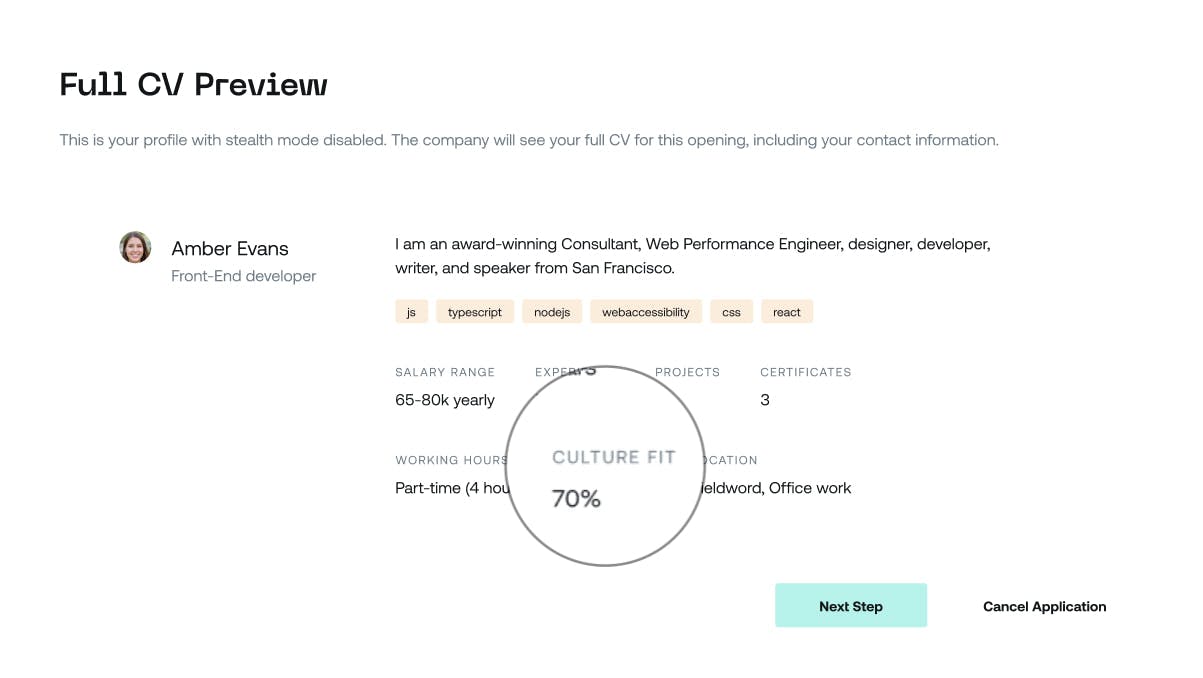 Opportunities Do Not Just Happen, We Create Them.
We hope you enjoyed getting to know how to leverage  your talent profile to step up your CV game. Keep in mind that companies have the same task as you do -  presenting themselves the best they can on their "Company profile".

The more effort each of the parties put into their profiles, the better the matching.