Make the Most Out of Your Company Profile
Attract the best talent with your company profile. From essential sections to the full profile in 6 steps.
Before we start, it's worth mentioning that our support team is ready to help out with filling out your company profile at your request.

It's your show. Let's see how to make the most of your company profile, section by section. Note that there is no rush to fill it all out in one go. We tried to make it easy to follow the instructions and to come back to them again once you have all the relevant info.

Let's focus on the most important parts for now.
The Essential 6 Profile Sections
Basic information

Easy start with choosing your Roango username, company website, year of founding, etc. Bear in mind that you can, in fact, change your username as long as it is not already taken. If you find that it is claimed by another business entity, let us know so we can fix it.
Expertise

Use tags to your advantage and add as many relevant keywords as you believe will help match your company to the potential talent. This is separate from "Job Opening tags". These tags are used to help us determine what your company is doing in the most concise way possible. There are sections that give you the freedom to go even deeper.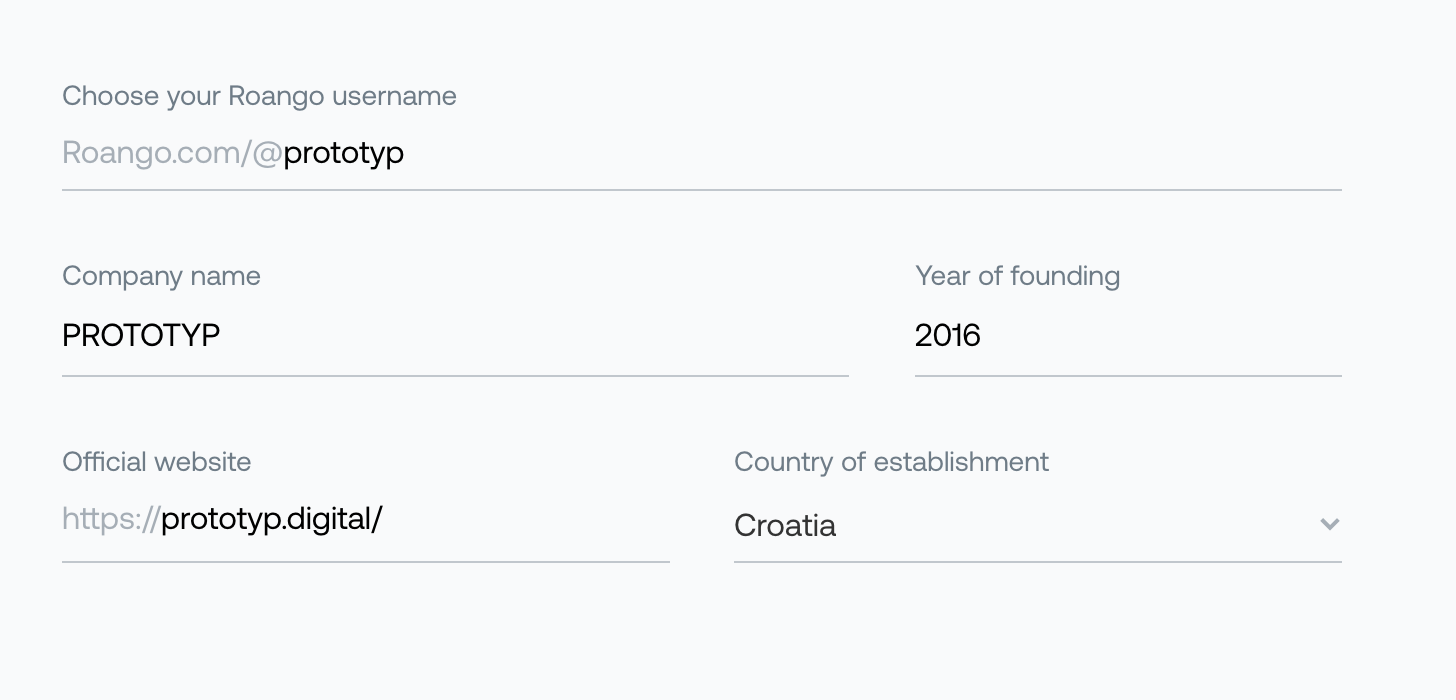 Brand assets

You probably already have these prepared for your brand, so this won't be too much of a challenge. There are tips on the best sizes and formats for the graphics you can use as a guide. The bonus part is where you get to add some nice team photos that stand out on your profile page.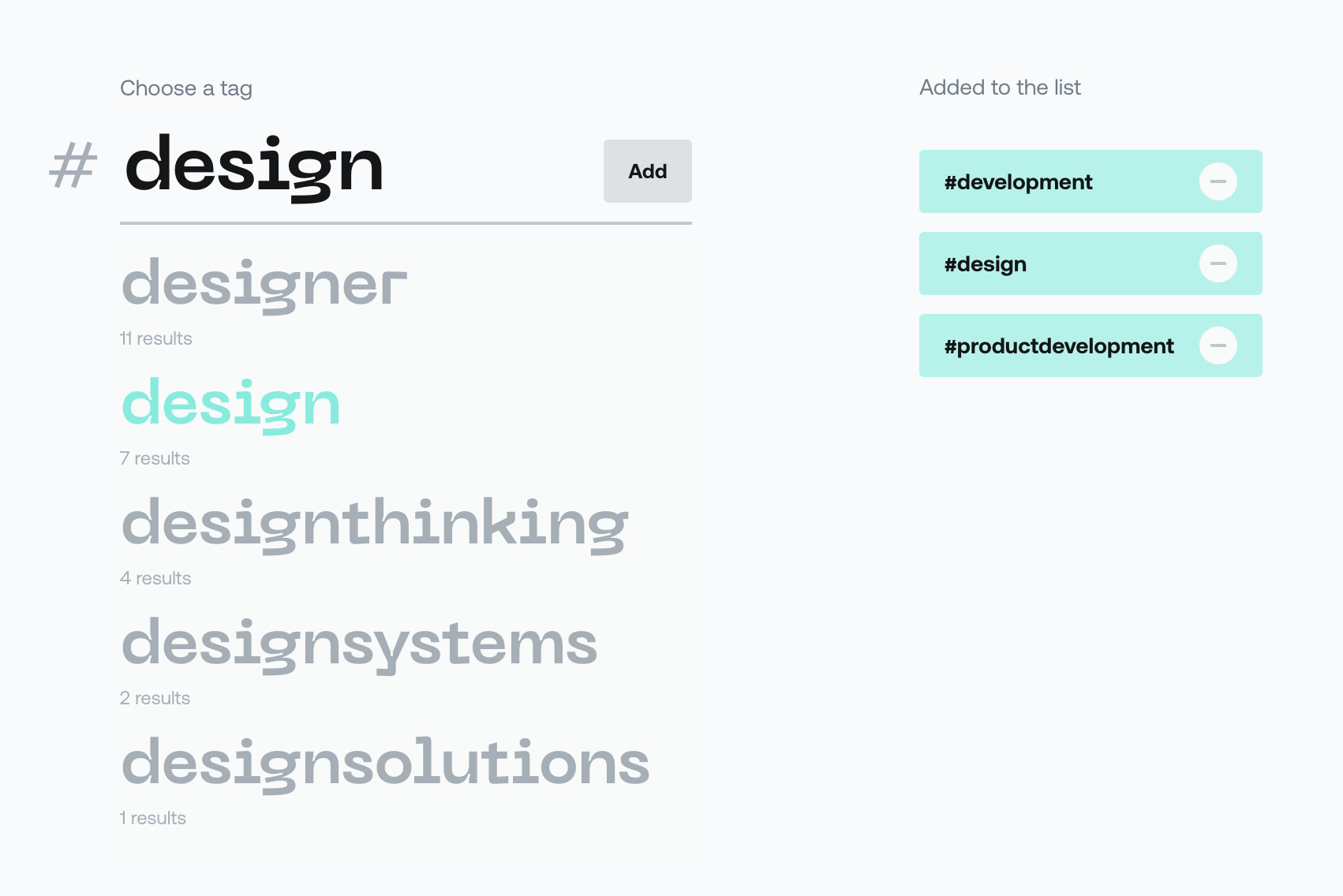 Company overview

Company type, size, industry, company summary, and company description are the information located at the top of your company profile. This, along with the info on expertise provides an essential business description at a glance.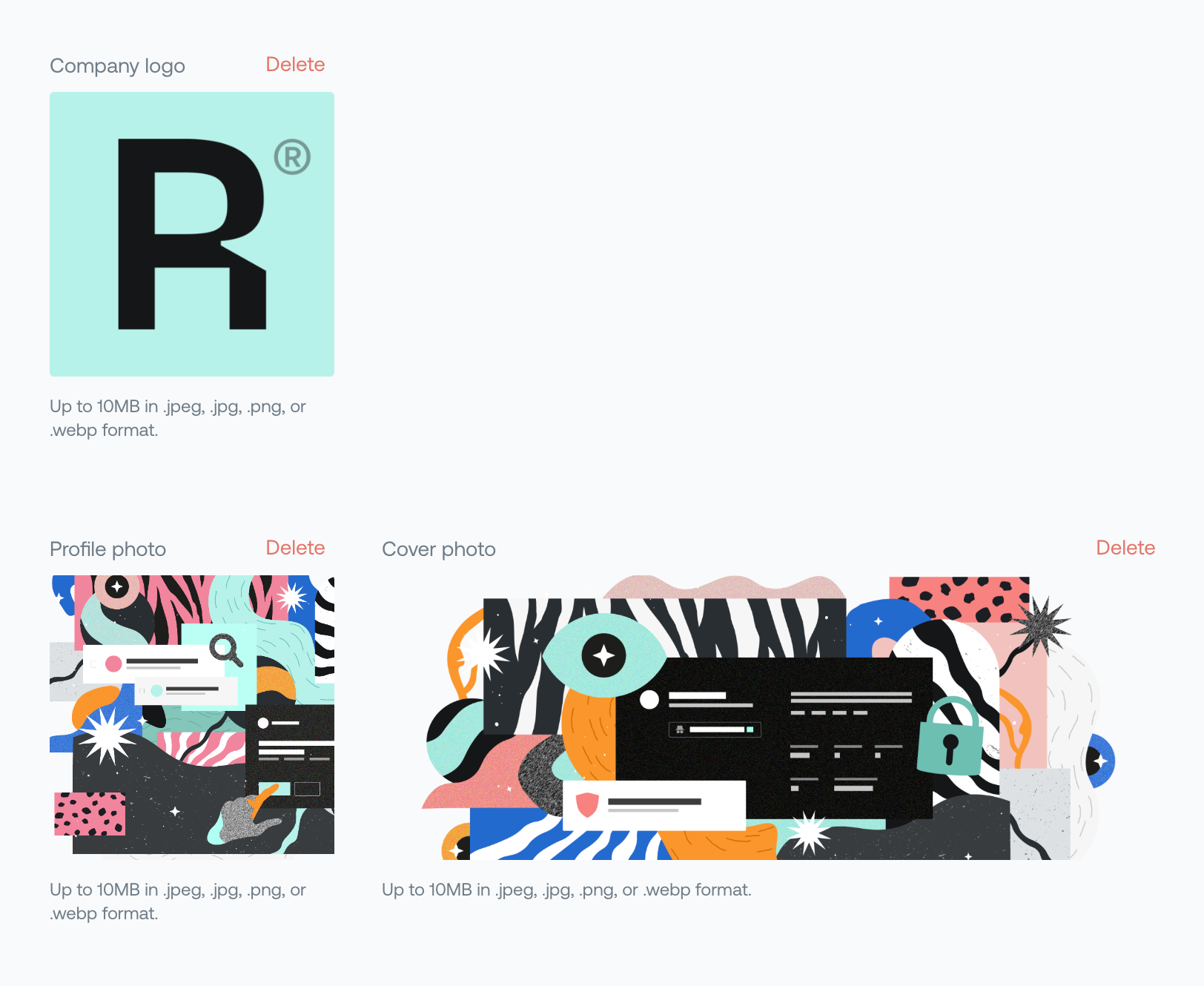 Company locations

Pretty straightforward this one, with the option to mark one of your locations as your headquarters.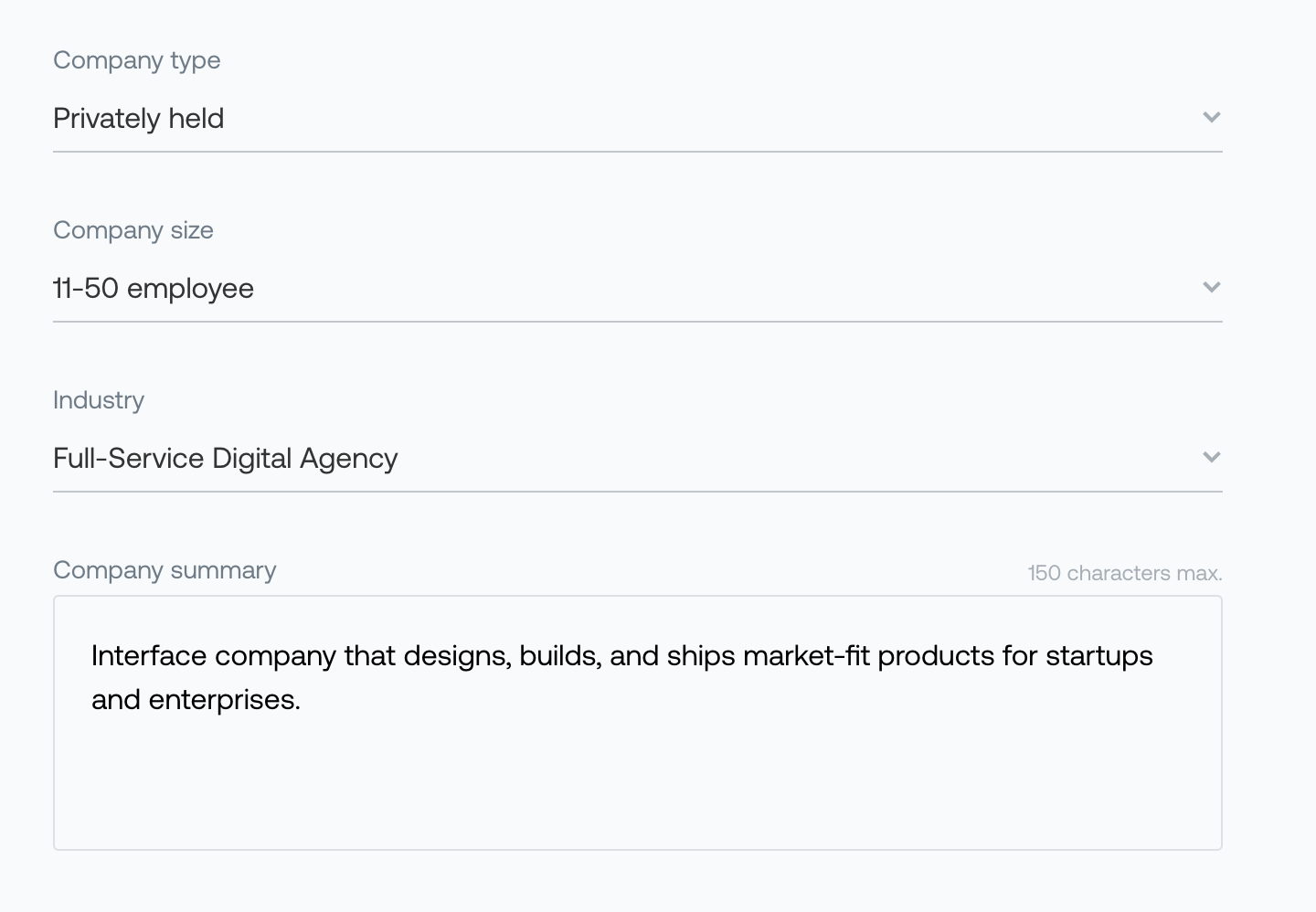 Social media

Last but not least, add your social media profiles that also appear at the top of your company profile. We recommend adding your most active channels to make sure talents get up-to-date insight into your company posts.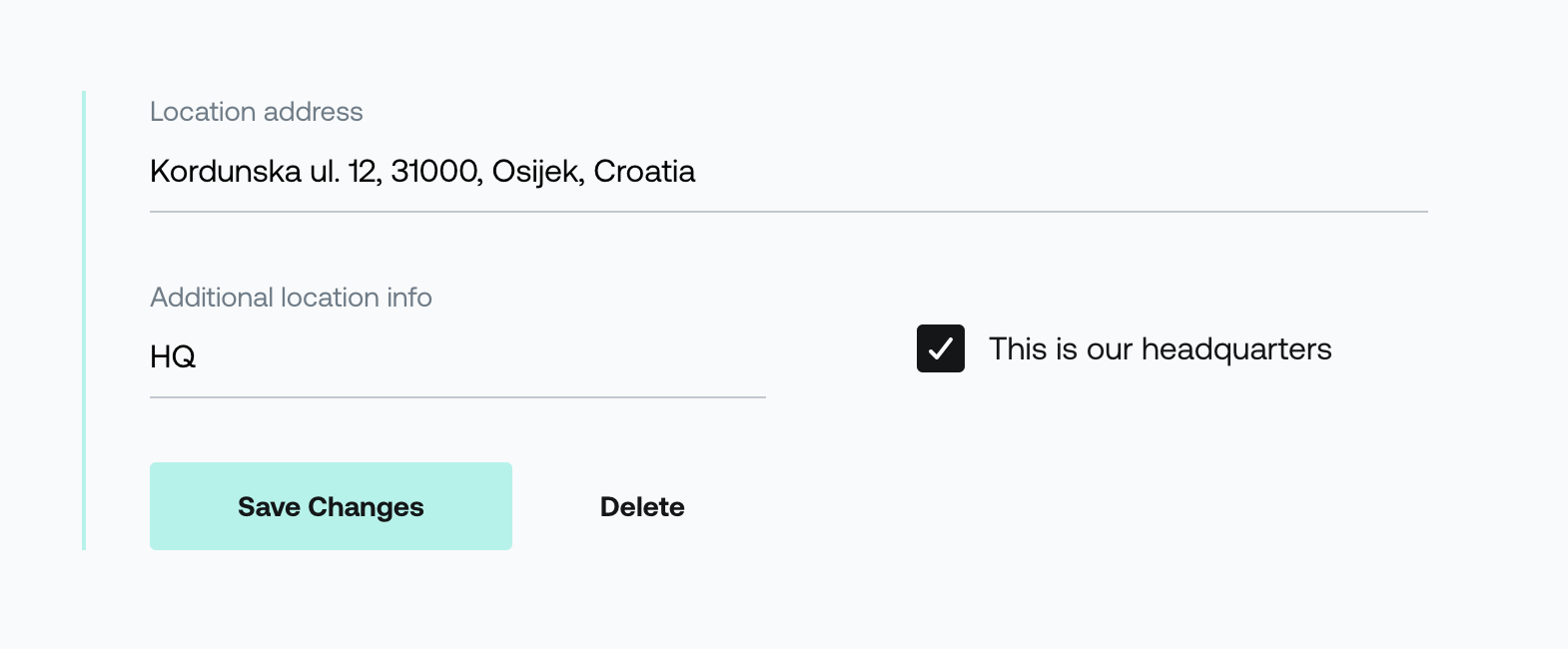 Filling out these 6 sections is good enough to present your company to potential talents. If you want to go further and complete the whole story, we encourage you to do so. There are two more bonus sections whose purpose is to go deeper into your company's culture, and career opportunities.
The Culture and Career Sections
Mission, vision, and values

A simple and straightforward mission statement complemented by company vision is all that's needed here. Additionally, you have the opportunity to highlight certain aspects of your business with hashtags. Up to five, to be exact.
Culture overview

This is the part where you should list and describe everything the company has to offer in terms of benefits, perks, and work-life balance. Typically, companies present every benefit that they offer and provide a brief description of each. This makes it easier for candidates to understand the culture and if it fits their outlook on work. Not every company provides all there is under the sun.

That's OK; not every talent is interested in the things that some companies have to offer.

For example:

- Health insurance
- Life insurance
- Education budget
- Paid conference visit
- Paid time off—that actually gets used!
- Paid family leave
- Student loan assistance
- Career development
- Lunch stipend or team lunch
- etc.

Culture characteristics

This is the part where you drill down into the specifics of your company culture. There are 6 sections to fill out, and if nothing else, the first section is the most important part to pay attention to.

The first part, "Dominant Characteristics and Environment" serves to describe plainly what your culture is without getting into much detail.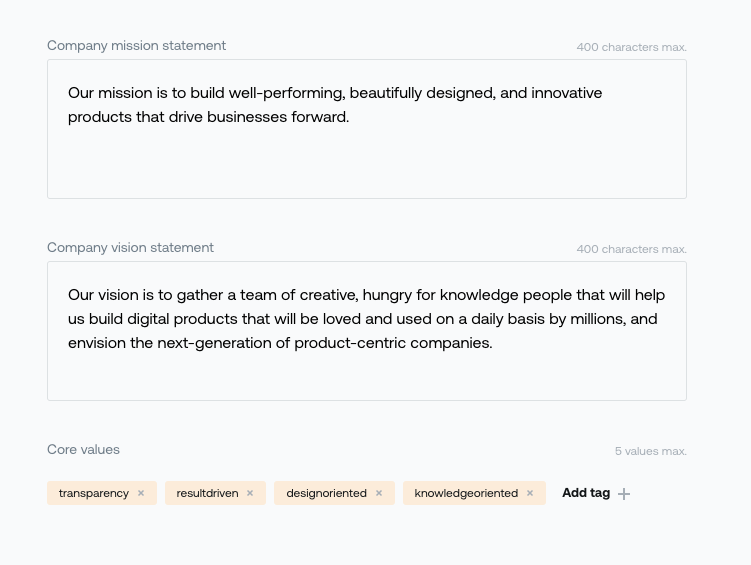 Career path

The opportunity for advancement is an important factor in employee engagement and retention. Here, we provide you with options to choose from. This should make it easier for you to fill it out.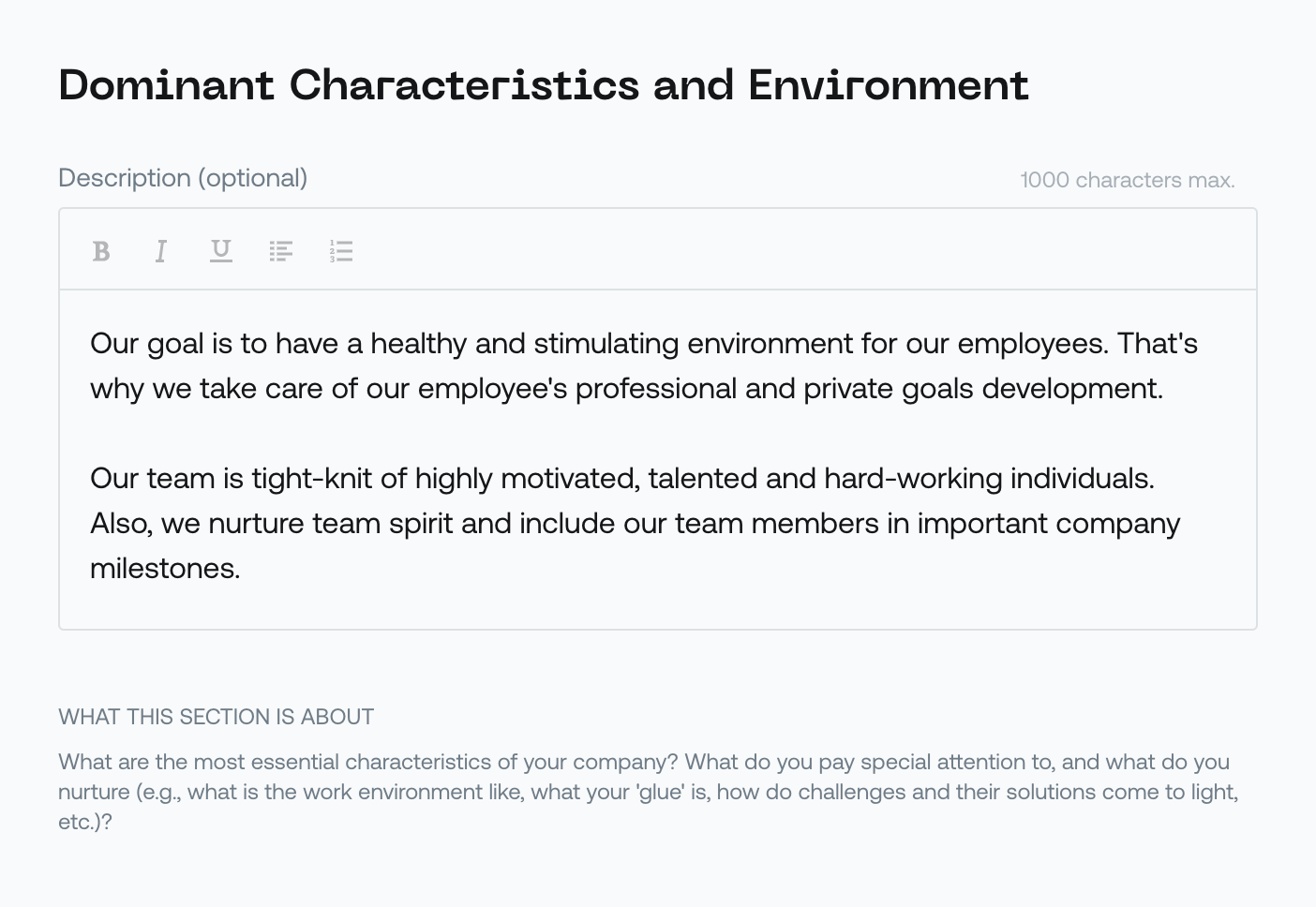 Team bonding

Quick and easy. List the things that you do to unwind from work together, and how often.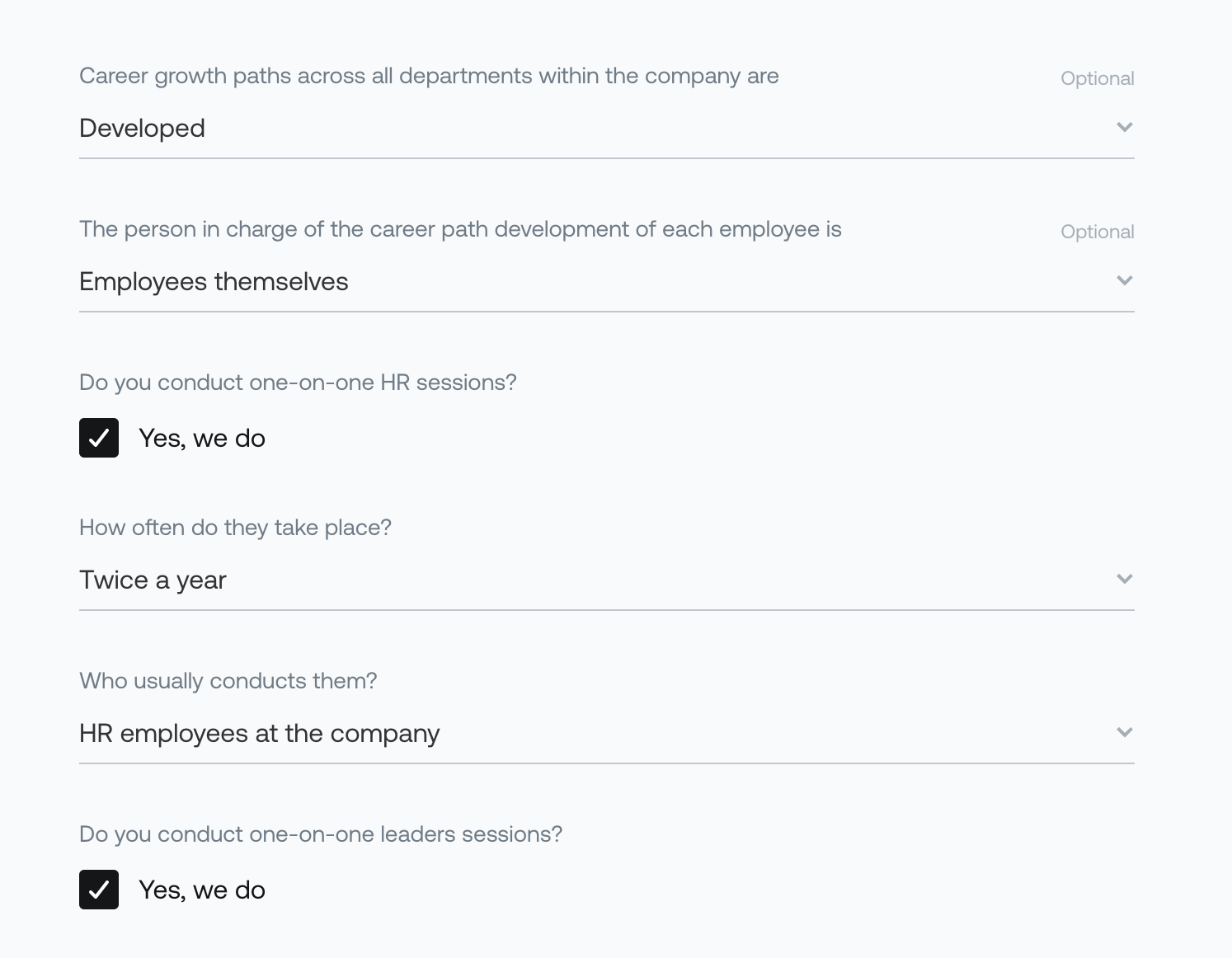 Training and development

Another helpful pick-and-choose section is where you can select the preferred options of education, continuous learning, and development in your company.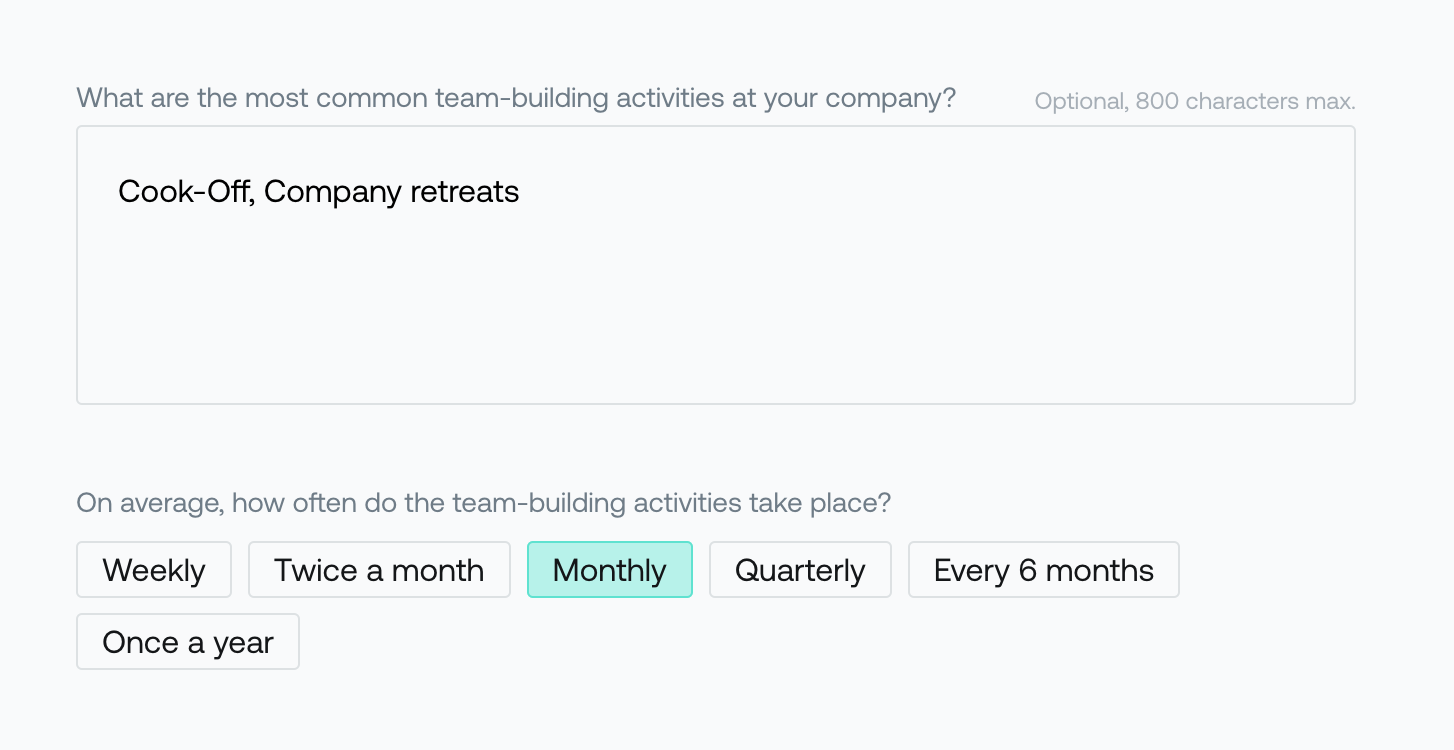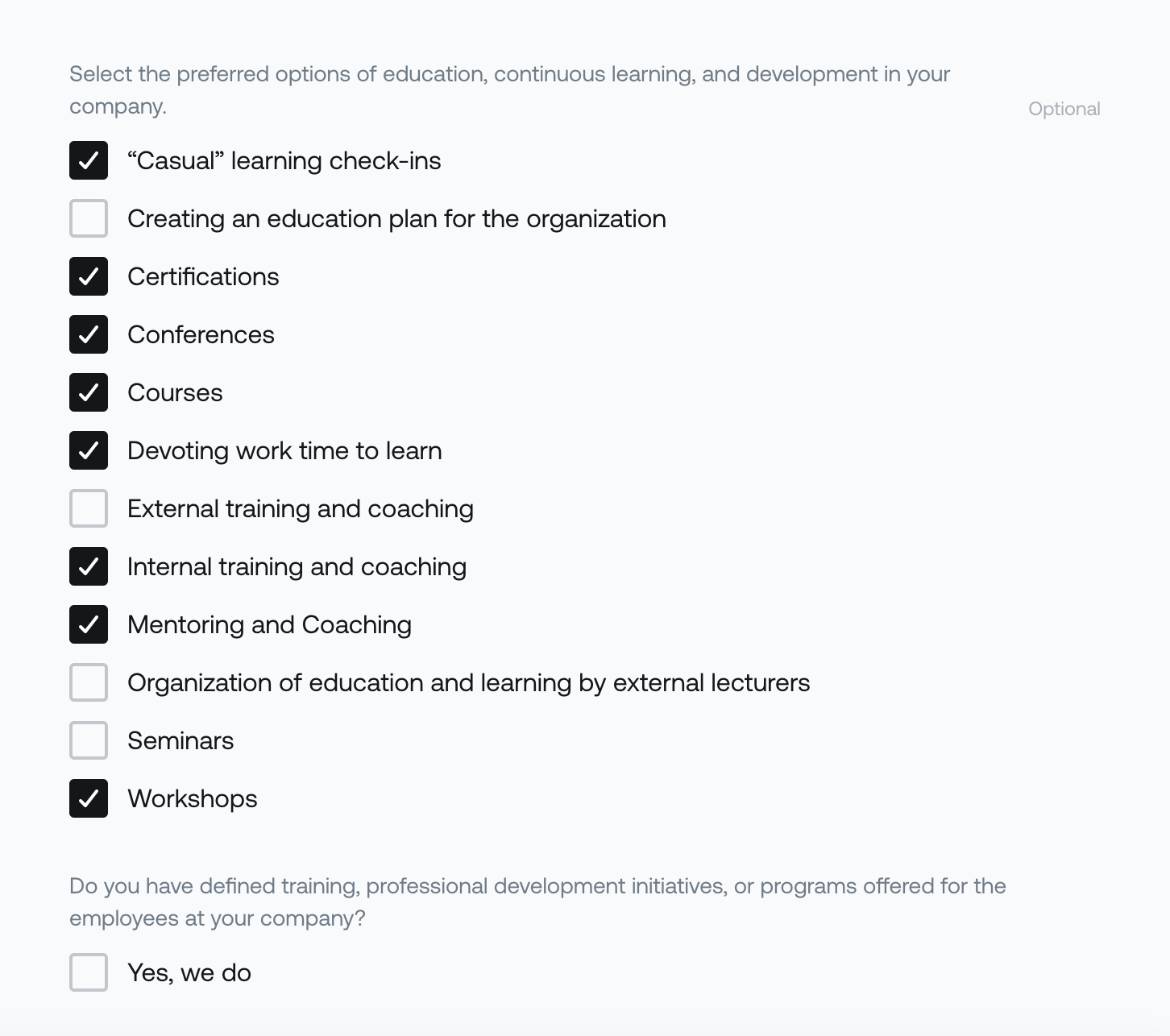 Last but Not Least
SEO Metadata for your public company profile allows you to make it stand out from the competition on SERP and invite the user to follow the link. We've provided all of the necessary fields for that. You should use this opportunity to write content that is specific to new talent engagement rather than having a general company description.